Product News - 2001
About this page

Product related news items from 2001.

Contents


Last updated: May 2003
Revision: 1.2
2001 - December
New advanced topical treatment from Johnson & Johnson
A new form of wound treatment - Promogran - is being launched by Johnson & Johnson Advanced Wound Care. Promogran is a protease-modulating matrix of freeze-dried collagen and oxidised regenerated cellulose (ORC) which, in combination, inactivates harmful proteases and protects growth factors in a wound to facilitate healing.
In a clinical trial 39% more chronic ulcers of less then 6 months' duration completely healed in patients treated with Promogran compared with moist wound healing alone.
Promogran is applied directly onto the wound and on contact with wound fluid or saline becomes a gel, which covers the wound bed. Both collagen and ORC are completely bio-absorbable and re-treatment is easily added to the wound. To maintain a moist wound bed, Promogran is covered with an appropriate moist wound healing dressing, chosen according to exudate level.
Promogran is available in two sizes (28cm2 and 123cm2). For further information contact Johnson & Johnson on: telephone 01344 871028.
2001 - July
Fibre-free dressings for moist wound healing
Magnus Bio-Medical Technologies has developed a new family of calcium alginate wound dressings which are fibre-free. Calgitrol is a gel-like foam matrix which forms a moist occlusive environment at the surface of the wound. Other agents can be added directly into the alginate to help promote healing.
Calgitrol can be used for a variety of wounds and is not restricted to those with only moderate to heavy exudate. Because the dressings do not contain dry fibres, they remove the need for painful packing and time consuming removal procedures.
For further information contact
Mildred Butler, Magnus Bio-medical Technologies, Inc. magnus@atlantic.net
Light treatment for decubitus ulcers
Biolight International AB has developed a method for healing chronic wounds.
Data from two double-blind, placebo-controlled studies on the effects of Biolight® on decubitis ulcers (grade 2) in older patients were analysed. The results showed that the time to healing after treatment with Biolight® was reduced by 36% compared with controls. No significant side effects were observed.
The Biolight® treatment uses pulsating, monochromatic light and is applied externally by means of the Biolight Wound Care device.
---


Figure 1 - Biolight
---
For further information contact
 Biolight International AB, 
Svärdvägen 15, SE-182 33 Danderyd, Sweden.



Phone: +46 (0)8 - 622 52 70, Fax: +46 (0)8 - 753 67 67,
E-mail: biolight@biolight.se 

2001 - June
New device for chronic wound healing
BioCELL has announced the arrival of a new device under its TEXTUS branding. The TEXTUS multi is a bactericidal hydrofibrous dressing which is hydrated with electrolytes, activated with 0.2% hyaluronic acid (TEXTUS heal), to create the ideal environment for all stages of moist wound healing.
BioCELL BioTechnology GmbH is a DIN ISO 9001 manufacturer of intelligent medical devices to heal chronic wounds. For further information on its TEXTUS range, please contact Harald Horchler, tel +49 2262 751763, email info@biocell.de
SunMedica announces a new post-surgical wound wrap
orthoRAPs, now available from SunMedica, provide a uniform compression that has been clinically proven to reduce the incidence of post-surgical oedema and drainage. orthoRAPs are designed to fit over the sterile dressing and hold it in place without the need for tape which can cause blisters.
SunMedica (Redding, California, USA) produces a range of orthopaedic surgery and wound management products which are latex free. For further information contact Sun Medica Customer Service on 01 (800) 995 8715, email info@sunmedica.com.
2001 - May
Skin treatments for scars
The RegimA Skin Treatment range is based on the plant Centella Asiatica. Two preparations are available for use on hypertrophic and keloid scars.
---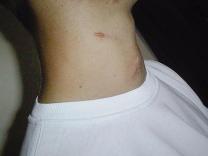 Figure 2 - Neck showing keloid scar
---
RegimA Centella Scar Treatment Programme addresses the following factors in scar tissue formation: inflammation; hydration; increased Collagen I synthesis with anti-keloid effect; and control of the stretching forces. RegimA Centella is recommended for use on surgical or trauma scars once sutures have been removed.

RegimA Scar Repair is a micro-molecular preparation. It is indicated for areas where taping may be inappropriate, for example the face, or when a large surface area of skin is affected. This formula contains Elastin plus Centella Asiatica to help improve the overall appearance of scars.
These two RegimA preparations are marketed as cosmetics due to their natural plant derived base. They are currently available in South Africa and England, but can be supplied to any other country. If you require further information or you would like to contact us, please email aymac@netactive.co.za.
2001 - March
Vacutex wound dressing to be launched
VACUTEX is a 3 mm layered 'sandwich' dressing. The layers of the dressing 'pull' interstitial fluid from the wound and places it within the central layer until saturation when it moves to the third outer layer. VACUTEX can be used on infected or heavily exudating wounds such as venous ulcers, pressure ulcers, burns, fungating wounds, stoma sites, cavity wounds and non-healing wounds. It is available in a range of sizes and can be tailored to suit each wound requirement individually.
For further information contact:
Protex Capillary Dressings Ltd, 
16/17 Bottings Industrial Estate,
Botley, Hampshire S030 2DY. 
Tel 01489 780807.
Email: support@vacutex.net



---


Figure 3 - Vacutex Dressing
---
Submitting news items to World Wide Wounds
World Wide Wounds invites you to send press releases about new developments related to wound management.
Please send your text by email to www.editor@smtl.co.uk

---
All materials copyright © 1992-Feb 2001 by SMTL, March 2001 et seq by SMTL unless otherwise stated.
---
| Home | Index | Subject Areas | SMTL | Site Map | Archive | Contact Us |
---
http://www.worldwidewounds.com/News/Product-News2001.html
Last Modified: Tuesday, 30-Aug-2005 17:13:37 BST